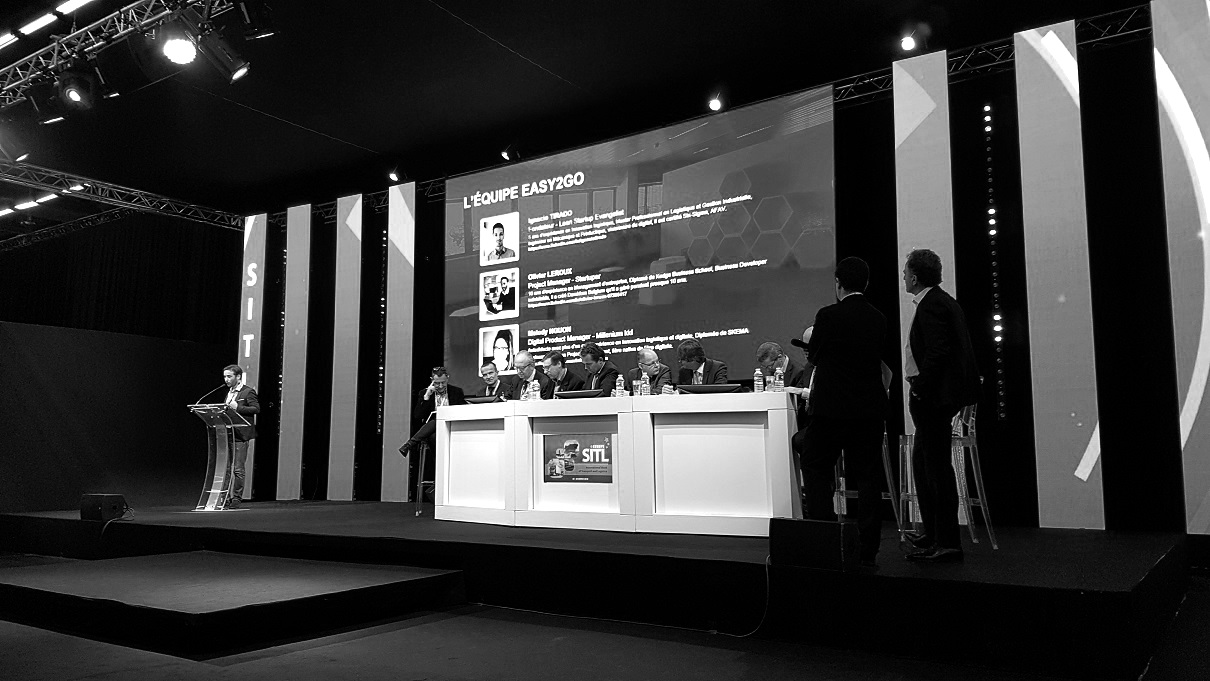 This Friday March 25, 2016, the first Start-Up Contest grand finale took place at the SITL, annual event gathering major actors in transports and logistics. The goal was to highlight innovative logistics start-ups. EASY2GO, Flash Group's innovation project was one of the eight finalists. The team offers you a quick run-through of this restless day.
8:30 AM EASY2GO team arrives, the exhibition center is opening. First encounter with the others finalists. Among them, WeTruck, a "Truckpooling" website, BubblePost, a green delivery app, and Bifasor, a communication platform for logistics in Africa.
9:30 AM Time has come to introduce the different projects. Each start-up has three minutes to convince a specialized jury, composed of twelve personalities highly skilled in their domains. Olivier Leroux, EASY2GO business manager, is presenting the service, its ambitions and functionalities.
10:30 AM Jury is deliberating, and the finalists are waiting for the results. Who will be awarded the start-up of the year 2016 title?
12 PM The decision has been taken, Wing, web-platform of parcelling and shipping, is the Start-Up of the year 2016. Award was handed during the 16th innovation awards ceremony.
Even though EASY2GO didn't win the award, the team is happy to have been selected as a finalist for the SITL Start-Up Contest.
"We never really lose. We win, or we learn." Product Manager Melody Nguon says.
"We know we are on the right path. We are confident for the future." Founder Ignacio Tirado adds. To have been selected among the 8 finalists is a recognition for the flash group's drive for innovation
EASY2GO is a web and mobile custom delivery application, enabling you to get delivered what you want 24/7 at the exact time you decided. It's Flash Group's last mile solution for companies and individuals, available on Apple Store, Google Play Store, API and EDI, and on EASY2GO.delivery.