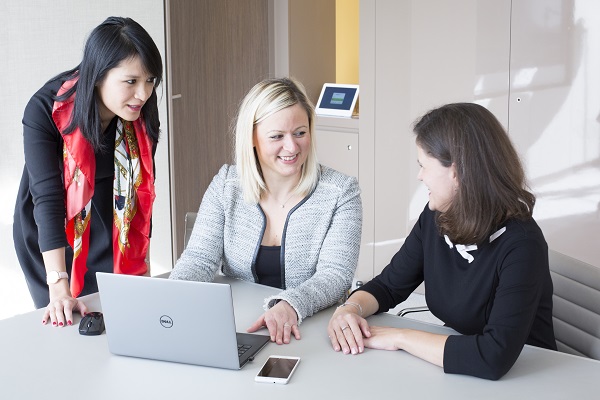 International Women's Day
March 8 was suggested by the 1910 International Women's Conference to become an "International Women's Day." It was later adopted in 1975 by the United Nations. Even though the society has undergone many major changes since, the fight for gender equality is not over yet. In France, the women represent only 26% of the 1,5M people working in the transport industry. The logistics sector probably suffers from an old prejudice as the sector is nothing like it used to be a decade ago. Thanks to digitization, the sector is reinventing itself and women clearly have a role to play. In honor of women's day, we give the stage to a few successful women within our company, hoping to inspire many more to follow their lead.
Angelina Di Geronimo,
Country Manager Italy
"I began as a customer care agent in 1996 and I gradually moved up to become Country Manager for Italy. Being a country Manager is not always easy. It requires a lot of competence and fast solution providing. Therefore it generates some stress but even more great satisfactions.  I'm incredibly proud of my team as we received a special award for a big contract we successfully implemented a more efficient process with a big customer.

Today is women's day and in 2018 we still hear that women are discriminated and hardly reach important job level. I've been working for 22 years in the logistics, which is historically a men's world. Personally, I've never suffered from any form of discrimination. Indeed, Flash focuses more and more on human qualities rather than gender. The unbalance is probably due to historical heritage and misconceptions.

Unfortunately it's not the same everywhere, we still need to pay attention. Achieving gender equality and empowering women is the unfinished business of our time, and a great human rights challenge in our world. Economic growth is more healthy and sustainable when women and men alike participate fully in the labor market."
Stefany Ton That, Recruitment & Talent Manager
"I've always worked in recruitment and for the last few years in industries associated to "men" (engineering/manufacturing/aerospace). Since I joined Flash, I'm discovering the world of transports and logistics, where it is not always easy to attract women. I wasn't myself particularly attracted to the industry but I was seduced by joining a dynamic group with lots of ambitions. And in fact, I managed to adapt to this world, and I'm happy I made the decision of joining the transports industry.

The IT part is also a challenge for us as they are not too many women, although I can feel trends are slowly changing but we are still far from having a balance. It's our job to become an attractive employer for all gender, regardless of the function/job, and my objective is to push to get more women in our operational and managerial roles, not only in support functions.
Happy women's day to all the ladies of the Group!"
Angélique Moissette, Customer Service Agent
"I've been working for Flash since 2002 and I'm in the operations department since 2006. I ended up working in this industry totally by chance because I took advantage of an opportunity. I didn't realize back then what it would mean for my career. I had studied to be a teacher but here I am 16 years later and I don't regret it.

My job is to take care of our client requests, which means finding solutions for urgent deliveries. Our clients come to us when there they are risking a production line interruption which would have huge consequences. The stakes of our work are quite high. I found this job to be stressful but I got hooked because it's even more exciting and rewarding. I came in the transport business with no experience. I was the only women back then but now I'm on the most experienced agents in the team. Other women have joined us, and I must say it had a good influence on the atmosphere as they brought a softer touch.
In this line of business, as in many others, people have to excel at multitasking. We have to deal with the rush: finding a suitable solution while keeping a good relationship with our customers, our suppliers, not mentioning the invoicing aspect. I found the women I worked with to be particularly efficient at this, and I even dare to say, this job is made for women!"
Safia Messalti,
Digital Product Owner
"I have always been passionate about technology and business challenges. I started as a Digital Marketing Intern and I realized how strong the link between IT and business was. This is one of the reason why I decided to focus on building a career in Digital. I did this choice without considering the fact that gender equality in IT industry is still a challenge to reach for a lot of companies. I was just thinking about what I would like to do and not if I could do it being a woman.
Today I am working for Flash as a Digital Product Owner. My job is to jump between business needs and IT solutions. I learnt a lot about the logistics industry and I'm definitely convinced that a lot remains to be done to reduce gender gaps in IT and Logistics. Our HR department is working a lot to promote our industry for women.
I am very happy about my job, my choices and the challenges I work on every day. The women I met here are really competent, manage their work life balance pretty well and show every day that whoever you are, you can do it.
I wish them all a happy women's day !"